Manual entry of documents into accounting systems is a tedious and time-consuming task that can take up to 30-50 hours of an accountant's time each month. This manual entry process not only leads to a waste of valuable time, but it also increases the risk of data entry errors and inconsistencies, which can cause problems down the line.

As a result, accountants often find themselves struggling to keep up with the demands of their workload, leaving them with little time for more important tasks or even personal life and time with family.

Fortunately, advancements in technology have provided a solution to this problem in the form of automated data entry services like Entera. With Entera's AI-based technology, accountants and bookkeepers can significantly reduce the time and effort required for manual data entry, allowing them to focus on more important tasks and activities.

In this article, we will discuss how to use Entera to automate data entry in Tally, one of the most widely used accounting systems. We will explore the benefits of using Entera for data entry automation and provide a step-by-step guide on how to set up and use Entera with Tally.
Overview of Tally: Key Features for Accounting Professionals
Tally is an accounting software that helps accountants and bookkeepers manage financial accounts, track inventory movement, calculate salaries, generate GST returns, and produce accurate reports.
Here's an overview of Tally's key features for accounting professionals:
Accounting Management: Tally's accounting management feature allows users to manage financial accounts, including general ledger, accounts payable, accounts receivable, and bank reconciliation, with ease. It also supports multiple currencies, making it convenient for businesses that operate in multiple countries.
Inventory Management: Tally's inventory management feature allows businesses to efficiently manage stock levels, track inventory movement, and generate accurate stock reports.
Payroll Management: Tally makes payroll management easy, with features that include salary calculations, statutory compliance, and generation of payslips and payroll reports.
GST Compliance: Tally is equipped with a built-in Goods and Services Tax (GST) feature, making it easy for businesses to comply with the Indian government's GST regulations. It supports all GST-related transactions and generates GST returns, making it easier for businesses to file their GST returns accurately and on time.
Reporting: Tally offers a variety of reporting options, including financial statements, stock summary reports, payroll reports, and GST returns, providing valuable insights into business performance and financial health.
By entering data into Tally, accountants can ensure that all financial transactions are properly recorded, and the financial records are up-to-date, enabling them to provide accurate financial statements and reports to their clients or businesses. Additionally, accurate and up-to-date financial records are essential for making informed business decisions, complying with regulatory requirements, and preparing for audits.
What is Entera and How Does it Help to Automate Data Entry in Tally?
Entera is an AI-based automated data entry service that simplifies and streamlines data entry tasks for accountants and bookkeepers. By integrating Entera with Tally, accountants and bookkeepers can significantly reduce the time and effort required for manual data entry, allowing them to focus on more important tasks.

Entera works by using artificial intelligence to extract relevant data from invoices, bills, and other accounting documents, and automatically enters it into Tally. The data extraction process is highly accurate, with a 98% accuracy rate, ensuring that accounting records are up-to-date and error-free.

To work with Tally, Entera offers a seamless integration process, which involves setting up a connection between Entera and Tally through the integration module. Once integrated, Entera can automatically transfer data in Tally, including transactions, customer details, vendor details, and more.

Overall, Entera's AI-based automated data entry service offers a highly efficient and accurate way of working with Tally, reducing the time and effort required for manual data entry, and ensuring that accounting records are up-to-date and accurate.
Getting Started with Entera: Step-by-Step Guide
Starting with automation is an effortless process with Entera. As it is a cloud-based service, there is no need to download any additional software onto your computer. All you have to do is register on the Entera website and follow a few simple steps, which we will outline below.
Step 1. Sign Up
Visit Entera's website and click on the "Start Free Trial" button. Next, complete the registration form with your details. Once you have submitted the form, you will receive an email with your login and password credentials to the email address you provided during the registration process.
Step 2. Integration with Tally
Entera provides seamless integration with popular accounting software such as Tally, Zoho, and QuickBooks via our integration module. The best part is that there is no complicated setup required. Our manager will contact you and handle all the necessary settings for the integration.

Note: If you prefer to try out Entera's document recognition service before integrating with Tally or other software, you can still use the service without transferring the data directly into Tally. We can set up the integration at a later time, if and when needed.
On the Tally side, you can create multiple companies and transfer the recognized data from Entera to each company separately. This feature is particularly useful for accounting firms that need to process large volumes of documents for multiple clients quickly and accurately.

With Entera, you can process more documents faster and easily take on new clients. The multi-company feature is included in each subscription package, so you don't have to pay anything extra to use Entera for several companies.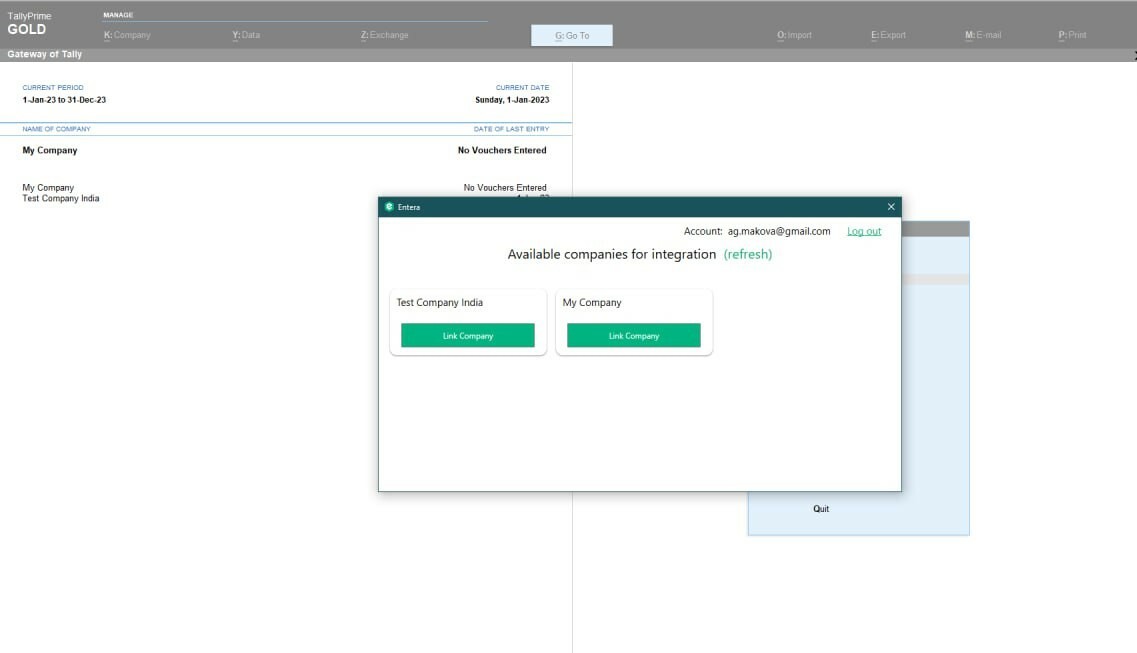 Step 3. Upload your documents
Once you received the credentials you can Login and access your personal area. Here you will upload the document for recognition in Entera. To start press the "Upload" button.


One of the greatest features of automated data entry with Entera is the ability to upload up to 100 documents for recognition simultaneously. This significantly speeds up the data entry process, by up to 10 times compared to manual data entry. Without this feature, you would have to manually enter the data from each document one-by-one, which is very time-consuming process.
Entera accepts a variety of popular document formats including PDF, JPG, PNG, XLS, XLSX, DOC, and DOCX. You can upload any of these formats for recognition.

As for document types, currently Entera recognizes invoices, receipts, quotes, purchase orders. More document types will be added soon.
Step 4. Recognition process
After uploading your documents, Entera will automatically initiate the recognition process. You can continue with your other tasks or even switch off your computer, as Entera works autonomously. Once the recognition process is complete, you will receive a notification via email and the status of your documents will change to "Recognized" in your personal area on Entera's website.


To review the recognized data, simply click on the document in your personal area on Entera's website. You can compare the scanned image of the original document to the digital equivalent to ensure the accuracy of the recognized data. Additionally, Entera attaches a copy of the original scanned document to the recognized digital version, making it easy for you to find the document whenever you need it.
Step 5. Items matching
The final step is to transfer the recognized data from Entera to Tally. Select all the documents that you want to transfer and click on the "Export to External Systems" button. This will open the "Items Matching" window, where you can match the recognized categories and items to those in your Tally account. Once you have matched them, the system will learn and automatically fill in the appropriate values the next time you transfer documents.
If you come across a new item that was not previously in your Tally account, you can leave the corresponding lines empty in the "Items Matching" window. Entera will create these new items for you in Tally, ensuring that all the data is accurately transferred.
When you are done, press "Create Documents".
Start automating your document entry in Tally today with
Entera
.
Register
via the link
to get a free trial and experience the benefits of fast and accurate document recognition, seamless integration with Tally, and the ability to process multiple companies efficiently.